Yamaha CP40 is a professional 88-key professional digital piano. It features great sounds which are based on Yamaha's premium series grand piano.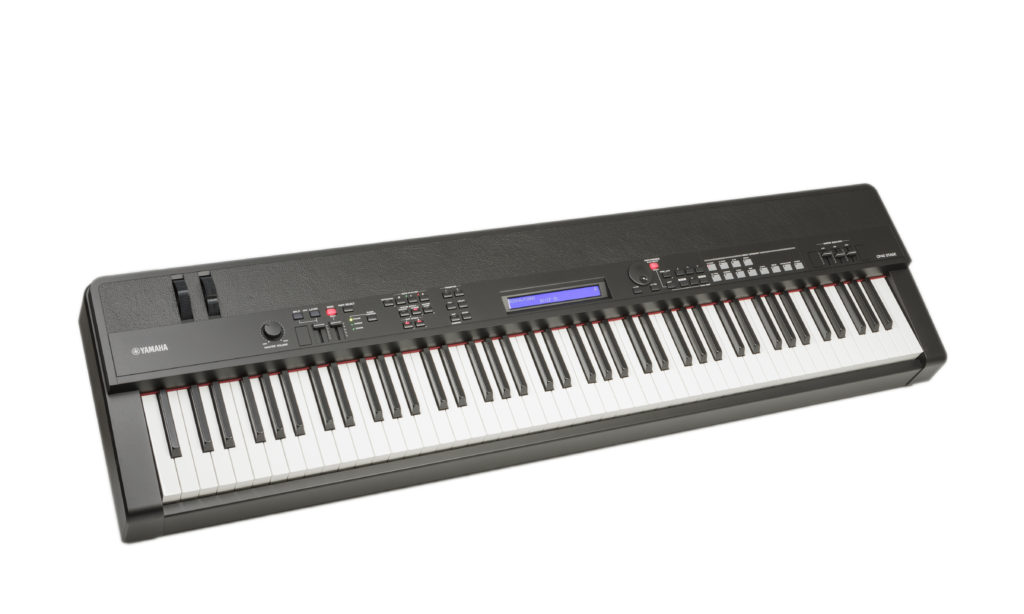 One could notice that the design of the keyboard is very familiar to you. That's because it looks very similar to it's close relative – Yamaha CP4. Of course there are differences between these two pianos, and the most obvious is the price. Yamaha CP4 is more expensive, but has more built-in voices (341 against 247 in CP40). But if you don't want to pay more, you can surely take CP40 and you won't loose much.
Too much reading? Check prices and availability here.
For musicians like me, this digital piano provides portability in a manageable format for setting up, to recreate sounds during live performances which exceeds the expectations of audiences. The Yamaha CP40 is a digital stage piano which can perfectly recreate the tone of a classic acoustic piano. This digital piano manages this task by digitally recording or sampling each note produced by an actual acoustic piano and then saving the sound recordings on the memory chip of the digital piano. When a key is pressed, the matching note recorded is played back.
This piano is a perfect example of the phrase "art imitating art". Unlike retro digital pianos, the sound produced by this piano is not disdained. Personally, being a jazz enthusiast for over a decade, I feel that you can't get more realistic sound than this, even for rock and roll settings. It features an intuitive interface which enables me to quickly access any sound which is required.
Features of Yamaha CP40
Its Category Select feature lets me call up my favourite sounds, or the ones that I use the most very easily. The CP40 not only stores my favorite piano sounds, but also sounds of instruments like pads, clavinets, bass, organs and strings. Actually there are almost 300 high quality instruments and effects, such as flangers, various types of reverb, distortion, amplifier simulations and other. The sound bank lets me draw on a vast range of music which is very helpful when we have to change sounds in the middle of a song. It is a piano which every professional musician must have since it adds so much versatility to the instrument as well as the music.
If you are real Yamaha fan perhaps you've heard about Yamaha's  CP80, which was very popular in the 1970s, and DX-7 FM-synthesizer (1980s). The sounds of that instruments can be found on a lot of popular songs of the time. So if you remember that and love it then you are lucky, because CP40 has about 30 samples of that old instruments!
If you look across the top of CP40 you can see the pitch band and mod wheels, the master volume knob, parts buttons and sliders, the metronome button, the play and record buttons, the transpose button, the 2-lines LCD display, the voice category buttons, the 3-band master EQ sliders. I like the large lighted buttons on the keyboard, which makes it easy to navigate and control the piano in the dark.
These buttons easily let you layer and split sounds to switch from a piano tone which is layered with strings, a piano having a split bass sound or a full piano, no matter how dimly lit the stage is. And you can control the volume of each layer by two special sliders on top of the keyboard. Thanks to its main solo function, with just only a touch of a button, you can go back to playing across the entire keyboard. Not only is this piano easy to carry but also is very easy to maintain. However, if the CP40 is kept in a place where it undergoes a drastic change in temperature, there are chances of condensation building up inside. If you store the instrument in very low or high temperature, make sure you give enough time so that it can slowly match the new temperature to avoid forming condensation.
With CP40 you can easily record your performance to USB flash drive as a CD-quality wav-file. And you can also play files from USB device as a backing track. You can also connect portable audio player to AUX input and play it's music together with your performance.
USB drive can also be used to backup your split/layer/effects configuration.
Connections
In addition to USB flash drive input there are several other inputs on the back of the keyboard:
sustain input
an assignable footswitch input
expression pedal input (foot controller) for optional FC7 Foot Controller
MIDI in, out
MIDI over USB
1/4 L/R mono audio jacks
1/8 line input
Power connection
1/4 stereo audio jack
As a professional stage piano, CP40 doesn't have built-in speakers. You can choose your favorite speakers to hear your piano through or you can connect headphones and play that way.
What is included in the package
When you receive your CP40, this is what you find in the box.
CP40 itself
Owners manual
Sustain pedal
Power supply
If you need other accessories you can order them separately. For example Yamaha YMR-03 Music Rest.
Yamaha CP40 is available in two variations:
Natural wood keys – this is of course more expensive modification of the piano, but if you like the feeling of playing real piano its definitely worth buying
Conclusion
I can say for sure that CP40 as it's older brother CP4 is the perfect piano to cover all styles of music. It has 88 weighted hammer keys, it's very light-weighted. Just imagine – you are playing your favorite grand piano, and you can take it with you! It has a lot of sounds and effects, including samples from vintage CP80 and DX-7.
I can definitely recommend it.
Yamaha CP40 Reviews