I am a piano teacher and I always give credit where it is due. The Williams Legato piano in particular caught my attention. The parent of one of the children I teach bought it for him and I love it. They live in an apartment which means there is not enough space for a grand piano. I advised the mom to just get a keyboard since the child is just starting anyway. The Williams Legato fits perfectly in the home and looks great.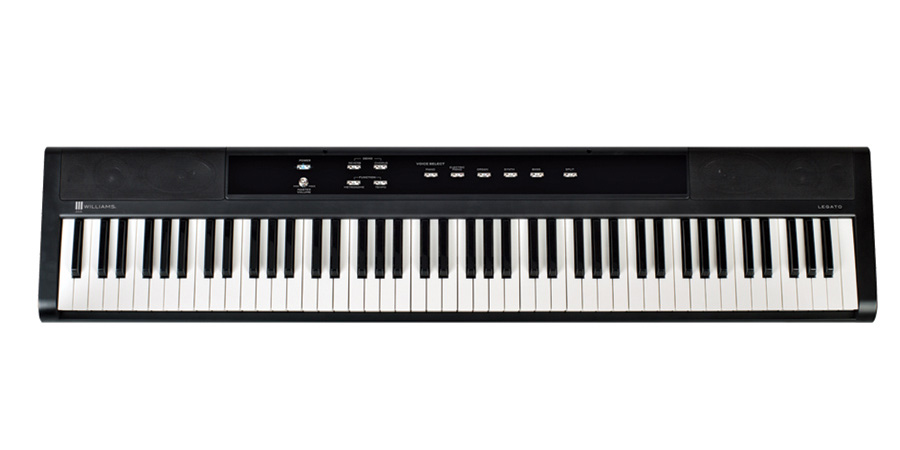 The keyboard has all the 88 keys I would expect to find on a piano which is really great for the young man to learn all the keys from the very beginning. It is a better choice compared to those keyboards that have fewer keys. What surprised me even more was the price at which I was told it was bought. Just 200 dollars! This is the cheapest 88-key piano I have ever seen.
It is not the number of keys that impressed me the most but the quality of the sound that they produce. My first remark was "it sounds just like a piano." You should note that not many keyboards that sound like pianos but this one nailed it. Other than the piano sound, this keyboard also has rich electric piano, organ, bass and synth sounds so it is all inclusive.
The keys on the Legato are weighted and velocity sensitive so they add feeling to the melody being played. This means that the keys can play loudly or softly depending on how fast or slow they are pressed. As for the quality of the sound, it is one of the best I have ever heard come from a keyboard. Though it is not loud, the sound is excellent. To really understand this, I tried the headphones feature and I loved the fact that I could hear every single note played. The built-in speakers could do better in terms of the volume but the sound quality is amazing. The volume issue can however be solved easily by connecting an amplifier.
The USB MIDI connections that the Williams Legato comes with are quite useful. Though they are yet to prove useful, they will be great for the exams when I will require students to make a recording as they play.
The piano has been here for a month now and I love it. It is perfect for the beginner needs but I still enjoy playing on it myself. I believe with over 10 years experience I am what you would call an expert.
This is a great Williams Legato review by Kris Nicholson.