Last month when I came back from a West Coast tour with my band, I got a call from Michael – my new piano student. I usually ask new students whether they have piano at home, because some of them don't. The answer was: "Sure. I've bought a new Yamaha P-121 recently to start practicing". I've already reviewed P-125 earlier – full-size piano of the same series – so it became even more interesting to meet the new student and try the new Yamaha model. Looking ahead I can say that I liked this piano. But first things first, my P-121 review is below.
Exterior
Like other Yamaha P-series P-121 has a modern minimalistic design. It comes in black and white colors, both of them look stylish with not very many buttons on top panel, but they are enough to control any function of it. Optional L-121 furniture-style piano stand makes P-121 look great in the interior and is more stable than universal keyboard stand. And a triple pedal unit completes the transformation of this portable piano into a stylish static home piano.
Keyboard
The main and unique thing about this piano is that it has only 73 keys. The reason my student bought such a version was about mobility and not having much space in his room. Full size (88 keys) version of this model is Yamaha P-125. As for me 73 keys are enough for most purposes if you are not professionally playing classical music. And for beginner it's more than enough.
I like the way Yamaha did the keyboard with their GHS (Graded Hammer Standard) weighted action and a mechanism for gradually increasing the force of pressure on the key from right side to the left, like an acoustic piano does. It means you can feel real weight of keyboard while playing, what is really important while you are practicing. Sometimes people who learned to play on the digital piano come to play on the acoustic piano, and it's hard for them to get used to a real weighted keyboard.
Sound/Voices
Yamaha P-121 has 192 polyphony and 24 voices. They are 4 piano, 4 electric piano, 4 clavichord and vibraphone, 4 strings and bass voices each with several variations. Every piano voice and some bass sounds are sampled from real instruments, what brings more "life" to the sound.
First I felt like some strings samples sounded a bit unnatural, but this was may be because I got used to strings on Yamaha Montage8 workstation which I use on studio.
And the voice I liked the most was Grand Piano. It really reminded me the experience of playing on Yamaha CFIII 9' concert grand piano last year.
Sometimes digital pianos aren't able to reproduce string vibration and case resonating. Even some Yamaha models can't deal with this. But I felt really comfortable with P-121, especially on low frequencies.
Controls/Buttons
On top panel you will find about a dozen buttons and a volume control fader. You can choose functions by tapping the "Function" button + *some button on the keyboard*. And this is the thing which annoyed me a little. Some functions are hard to reach, and you need to tap very strange combination of keys and buttons to, for example, reduce a level of reverb, or to make a transposition. Though most of common functions can be found on a hunch, however you should look into a User's Manual to access some advanced functions and to know how to change some parameters. Fortunately, there is a feature called "Smart Pianist App" which will help you to see your actions and possibilities with the User Interface. I will tell you more about it below.
Features
There are some features of this piano I should mention:
"Dual Voice", "Split", "Duo" functions.
"Dual Voice" is a feature that allows you to play with two voices together. It means you tap a key and you hear two voices simultaneously. For example, the most used combination is "Piano + Strings". Musicians really like this combination because of its romantic and tender sound. Or you can combine the sounds of an Electric Piano and Jazz Organ. You probably heard it from some R'n'B or Reggae performers.
"Split" feature will provide you with a possibility to split the keyboard of the piano into two instruments. You can choose one instrument for the left hand, and another for the right. For example your left hand may play a bass sound, and in the right hand you are playing E.Piano. So, you are two musicians in one ?
The feature allows you to reach variety of your sounding and style. So, you can bring people more pleasure and more interest. The point of splitting can be chosen on your own decision.
These features will add more spice and colors for your playing.
"Duo" function splits keyboard into two parts with the same voice. It is useful when playing together with the teacher.
Stereophonic Optimizer. When using headphones, this feature lets you enjoy the same dispersed sound heard when sitting in front of a real acoustic piano. This provides a comfortable, natural experience while playing with headphones.
A feature called "Table EQ" allows you to put P-121 on the table or some flat surface without worrying about quality of sound. Very useful option, because sometimes you will not have piano stand at hand.
Smart Pianist App. It will help you to control many functions and parameters included in P-121 with your iPad. For example, you can choose an instrument or a rhythm to play on your smartphone screen. Believe me, it's very useful feature, because Yamaha P-121 doesn't have its own screen. Also Smart Pianist App can analyze the chords from the songs and show you their chord symbols. So, you can play along and have fun with this. Just 10 years ago this could sound fantastic, isn't it?

P-121 has 20 built-in auto-accompaniment styles. If you turn this feature on, the instrument will follow your harmony and accompany you – you can have fun with that while practicing, or use it as backing track for your live performance.
Recording. P-121 has built-in recorder and internal memory for one user song.
Various effects. You can control effects specific for digital piano such as Reverb and Damper Resonance as well as Intelligence Acoustic Control (IAC – the sound quality is automatically adjusted  according to the overall volume) and Sound Boost (strengthening the overall sound).
Metronome, Tempo control, Transpose, Tuning – everything you need is on-board.
Speakers
What can I say about the speakers? Well, Yamaha P-121 as many other digital pianos in this price category has two speakers (2x7W) on the top. This output power is more than enough for playing at home. But what distinguishes it from other models is the presence of lower speakers, which produce low frequencies to make you excited with the sound. Special "Table EQ" function optimizes sound when the instrument is placed on flat surface (a table).
If you don't want to disturb your neighbors or flatmates there are two ¼" headphone inputs: after you plug in headphones, native speakers of the P-121 will turn off.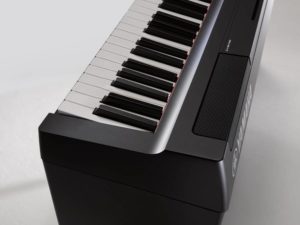 Connections
On the back panel you'll find a common set of connection inputs:
DC IN 12V for power supply
Sustain Pedal input. You will use it for plugging in a Sustain Pedal which is, by the way, included in the package or you are able to buy a new one at your discretion
Pedal Unit input. You can buy an LP-1 Pedal Unit board separately. There are three pedals just as on a real acoustic piano. They will give you an opportunity to control different shades of sound such a: sustain, sostenuto and soft control. Pedal Unit also supports half-damper response
USB to Host (MIDI). This input/output allows you to connect your digital piano to different MIDI devices, including PC or Mac by USB cable. For instance, after connecting Yamaha P-121 to PC, you can use it like MIDI keyboard
2 AUX outputs [L/L+R][R]. If you need to connect P-121 to some sort of amplifying or to an audio interface, you can use this paired output. "Paired output" means you have 2 options: first is to use one stereo 1/4" jack cable, the second is to use two mono cables
2x¼" headphone inputs
What is the difference between Yamaha P-121 and P-125?
P-121 is a smaller brother of P-125. The only difference between these two two instruments is number of keys. P-121 is "light" version of P-125 and has 73 keys. Therefore it weights only 22 lbs, is more compact, and costs a little less.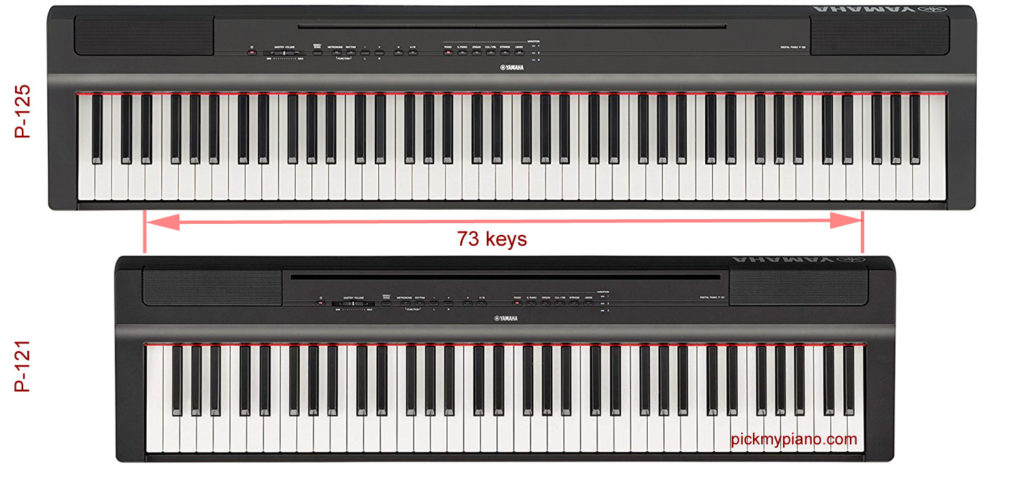 | | | |
| --- | --- | --- |
| | P-121 | P-125 |
| Number of Keys | 73 | 88 |
| Weight (lbs) | 22 lbs | 26 lbs |
| Weight (kg) | 10.0 kg | 11.8 kg |
| Dimensions | 43.86″x6.54″x11.61″ | 52.2″x6.54″x11.61″ |
| Dimensions (mm) | 1114x166x295 mm | 1326x166x295 mm |
What is included in the package?
Power adaptor PA-150B. The cord is long enough for being able to put the piano to the place you want.
Music Rest
User's Manual. Very useful thing especially if this is your first digital piano. You will find a lot of necessary options to learn how to use it properly. However you can always download electronic version of this manual from Yamaha website.
Sustain Pedal. Original sustain pedal is included, but actually I didn't like it very much. Well, it felt rather cheap and plastic, so I would probably think about buying another one or a 3-pedal unit.
Austin Bazaar version of this piano is available on Amazon and besides the standard package includes everything you need to put piano into interior and start practicing: L-121 Stand, LP-1 Pedal, Furniture Bench, Online Lessons, Instructional Book, Austin Bazaar DVD and Polishing Cloth. Check the bundle on Amazon by this link.
Accessories
There are some accessories are developed specially for this portable piano by Yamaha. One of them is L-121 furniture-style stand. This steady keyboard stand perfectly matches P-121 and looks very stylish in the interior.
Another optional accessory which you can buy for this instrument is pedal unit LP-1 with 3 piano-style pedals: sustain, sostenuto and soft control. This unit is also compatible with other P-series pianos such as P-125 and P-515.
If you intend to travel with your P-121 (and this is one of the main reasons to buy a compact piano like this) I would recommend you also buy a specially designed SC-KB750 soft case for it and also any universal keyboard stand.
Main Specs
Release Date
2018
Color variations
Black, White
Weight
22 lbs/10.0 kg
Dimensions (without stand)
1114x166x295 mm (43.86″x6.54″x11.61″)
Keyboard
73 key weighted (Graded Hammer Standart) with touch sensivity
Polyphony
192
Voices
24
Rhythms
20
Demo songs
12 songs + 50 piano songs
User songs
1
Effects
Reverb (4), Sound Boost, table EQ, IAC, Stereophonic Optimizer
Dual mode
Yes
Split mode
Yes
Other features
Transpose, Fine tuning, Metronome
Pedal included
1 sustain pedal
Built-in speakers
Yes (2×7 W)
Connections

USB-to-Host
Sustain pedal input (1/4")
Headphone output (2×1/4")
Aux out (2×1/4")
Pedal unit connector
Power adapter input
Conclusion
In my opinion, Yamaha P-121 is one of the best compact pianos on the market. The keys feel very close to real piano, so you'll not be uncomfortable if you switch to an acoustic instrument some day. P-121 will make you feel excited for mobility due to its size and weight, without losing playability. And you will get a quality of professionally recorded sounds in your room, cabinet or during live performance.
However if you want to have a bunch of voices in one keyboard it may be not the right choice for you. This is a piano with some additional voices, and not a synthesizer or workstation, and 24 voices is more than enough for most pianists. And the second thing, you must get used to some functions and their controlling or use the Smart Pianist App instead.
To summarize I can say that this instrument undoubtedly meets all the requirements piano players have nowadays. If you need a compact digital piano with weighted keys and real sounds I can't see any competitors in this price niche. Whether you are a beginner or a professional Yamaha P-121 is a very good option for home and live performances. And if 73 keys is not enough for you, than you can go for P-125 – full size version of this piano.
Thanks for reading my review! If you liked it you can thank me by clicking Share or Tweet button or write your comment below. It will let me know that I do it for a reason;)
Summary
Reviewer
Review Date
Reviewed Item
Author Rating
Product Name
Tags: 500-1000 USD, best digital piano, Graded Hammer Standard, onboard speakers, polyphony 192, weighted keys, Yamaha